Back in the day, there was an announcer for the Seattle Mariners named Ron Fairly. He was an ok broadcaster but he most definitely was a master of stating the obvious. Example: "Well, the Mariners have the bases loaded with two outs here in the bottom of the 9th, down by a run. They need to get a hit here or the game is over." Really? Thanks, Ron!
In the spirit of Ron Fairly, Phil loves pizza. Really? Thanks for stating the obvious!
November is Phil's birthday month and, in 2023, one of the gifts from Shelley is stops to five pizza places in Coeur d'Alene. The first of those stops was to Vicino Pizza Neapolitan Style Pizzeria.
That may sound familiar to you because on episode 095 of the Wine Time Fridays podcast, Shelley and Phil were at Vicino Pizza Neapolitan Style Pizzeria, with the kick ass Proprietor who also owns, Naomi Boutz, who also owns Vine & Olive. Pronounced Vi-chē-ño, Vicino means near or close by in Italian, which is fitting given it's just around the corner from that sister restaurant, Vine & Olive, in Coeur d'Alene. And Vicino Pizza is the only restaurant in Coeur d'Alene to offer a 100% Italian wine list. Every wine has been curated to go with pizza and offers all the wine regions in Italy!
Neapolitan pizza, also known as Naples-style pizza, is a style of pizza made with tomatoes and mozzarella cheese. The tomatoes must be either San Marzano tomatoes or Pomodorino del Piennolo del Vesuvio, which grow on the volcanic plains to the south of Mount Vesuvius.
Our visit to Vicino was on my actual birthday, November 5. Shelley made 6:30 reservations and after a stop at The Culinary Stone, one of the Wine Time Fridays sponsors, for their 9th Anniversary and Holiday Kickoff party, we made our way over.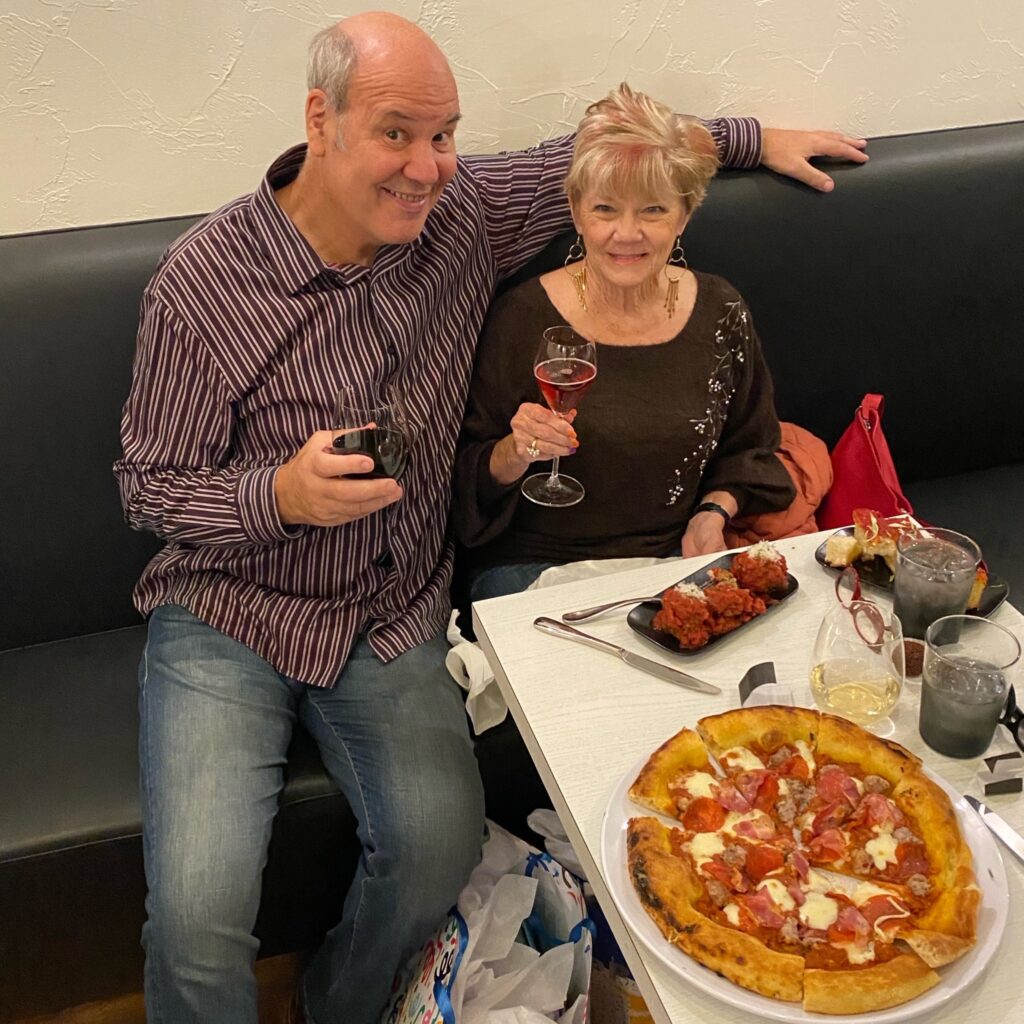 There was a good amount of people there but they greeted us and immediately seated us. There were a TV's  around so we could keep an eye on some college football games (LSU beat Alabama which made me VERY happy!) and game 6 of the World Series. 
When the server arrived to ask if we would like to start off with a drink, Shelley barely let her finish the question by answer, "Yes, I would like the Lambrusco, please!" Because of her kids playing so many sports when they were young, which led to many pizza stops, Shelly isn't necessarily enamored with pizza, but it would be an understatement to say she was REALLY looking forward to that Lambrusco!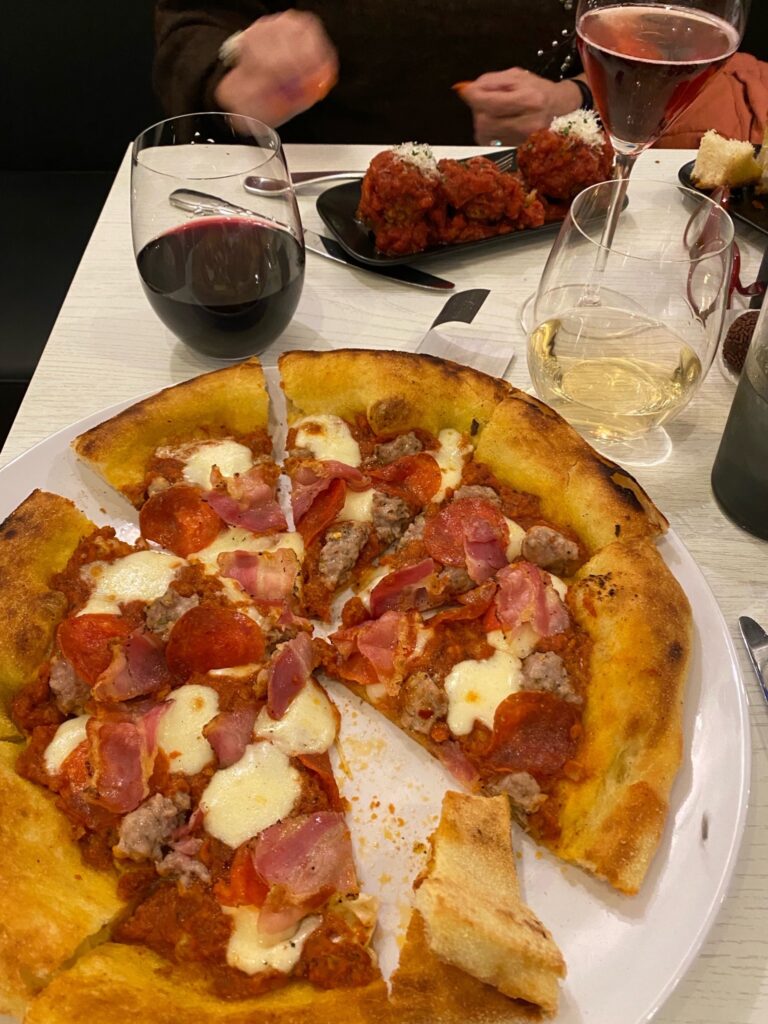 She talked a lot about that in the week leading up to this dinner. I ordered the 2020 Jasci Biologico, Trebbiano d'Abruzzo and Shelley got her wish with the NV Cleto Chiarli Lambrusco di Sorbara Vecchia Modena.
When it was time for food, Shelley ordered the Polpette house made meatballs with nonna sauce and parmigiano-reggiano and I ordered what I went there to have, a pizza, landing on the Il Norcini, a spicy coppa, house made sausage & speck, meat sauce and mozzarella.
We opted to share a glass of their 2020 Tenuta Sallier de la Tour Syrah from Sicily to round out our meal. The wine and pizza pairings were spectacular. We were even honored to be served by our friend and the owner of Vicino, Naomi.
It was a very comfortable and informal dinner and would recommend it to anyone. Their wine list is Italian heavy staying on point with the food served.
I might interject here that my go-to pizza, pepperoni, sausage and black olives, was not available at most of the places we went to because black olives wasn't on the menu. Bacon, however, was, so that was my substitution of choice. The sacrifices we must make sometimes. 
Our next stop was Flame & Cork – Wood Fired Pizza's, Vino and Beers, in Hayden, a few miles North of Coeur d'Alene. They are also a locally owned family business specializing in authentic wood-fired pizza, salads and appetizers.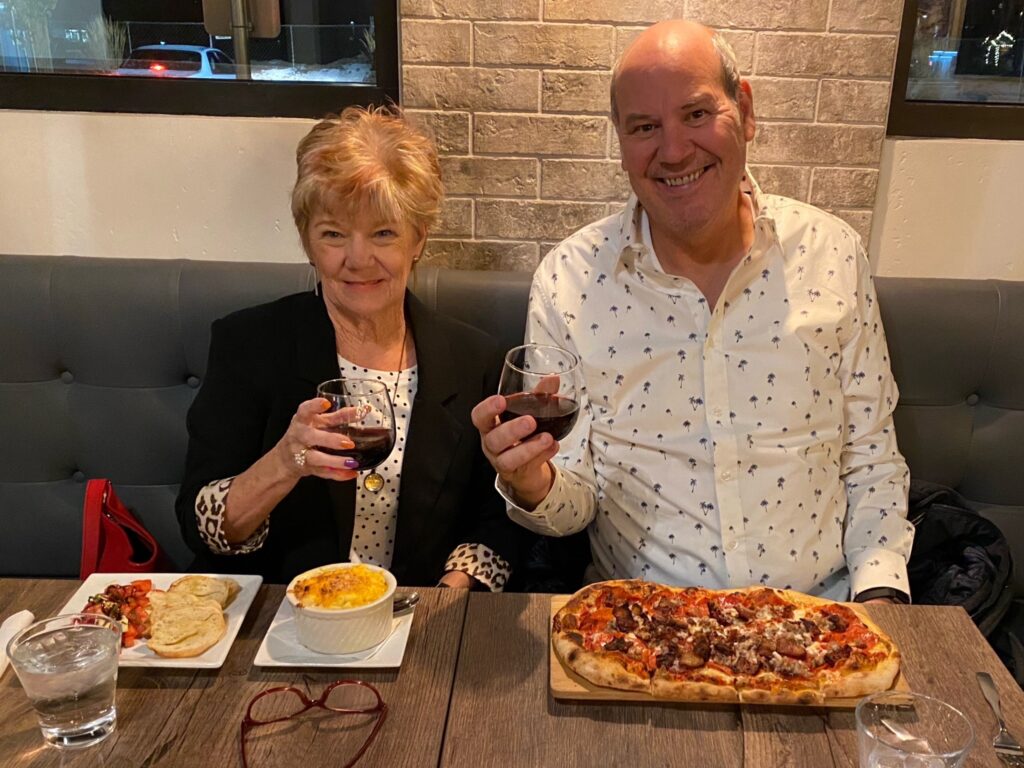 This was a very cozy place! And while I aimed to order the same thing at each pizza location (why deviate from a good thing?), Shelley shook things up by ordering something different at each place. Especially because, you know, she's not a huge fan of pizza.
I ordered my usual Pepperoni, sausage and bacon (see above statement) while Shelley ordered her UNusual, Chopped Capresé and Wood Fired Mac & Cheese. We paired these selections with a Malbec and a Coeur d'Alene Cellars No. 6 Red Blend, a wine we're quite familiar with as we know the family of that winery. As you can tell, Flame & Cork served up a square pizza and it may have been the best one yet! Fabulous crust and so delicious, I ended up eating the whole thing instead of taking half of it home for lunch the next day.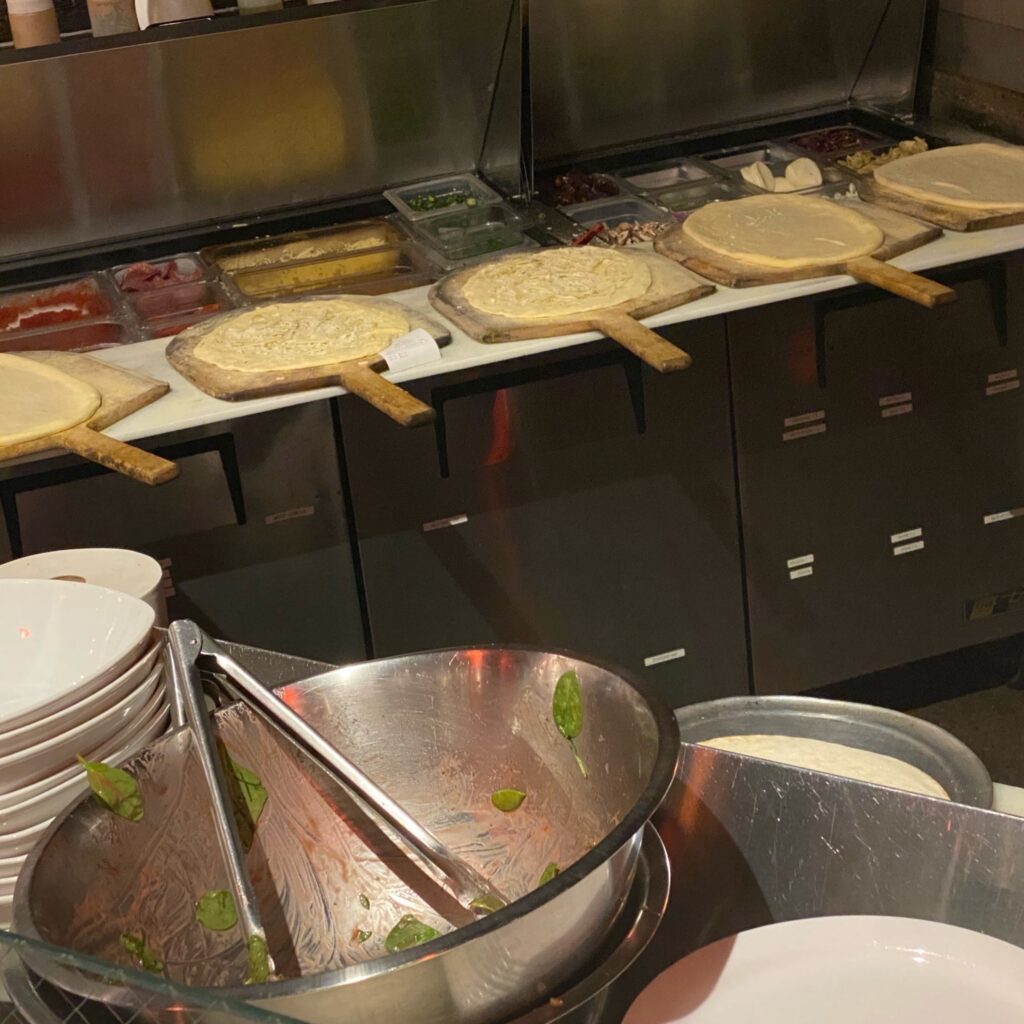 Again, fantastic pairings and I might add, that Mac & Cheese was outstanding. Yeah, Shelley was nice enough to offer me a taste. 
At this point we were two for two on pizza places. The next place we tried was, Fire Artisan Pizza. So far, all of the first three pizza places used fire ovens to cook their pizzas. 
I went with their meat pizza with fennel sausage, pepperoni, salami and bacon and Shelley chose Blistered Shishito Peppers and Stuffed Portabellas.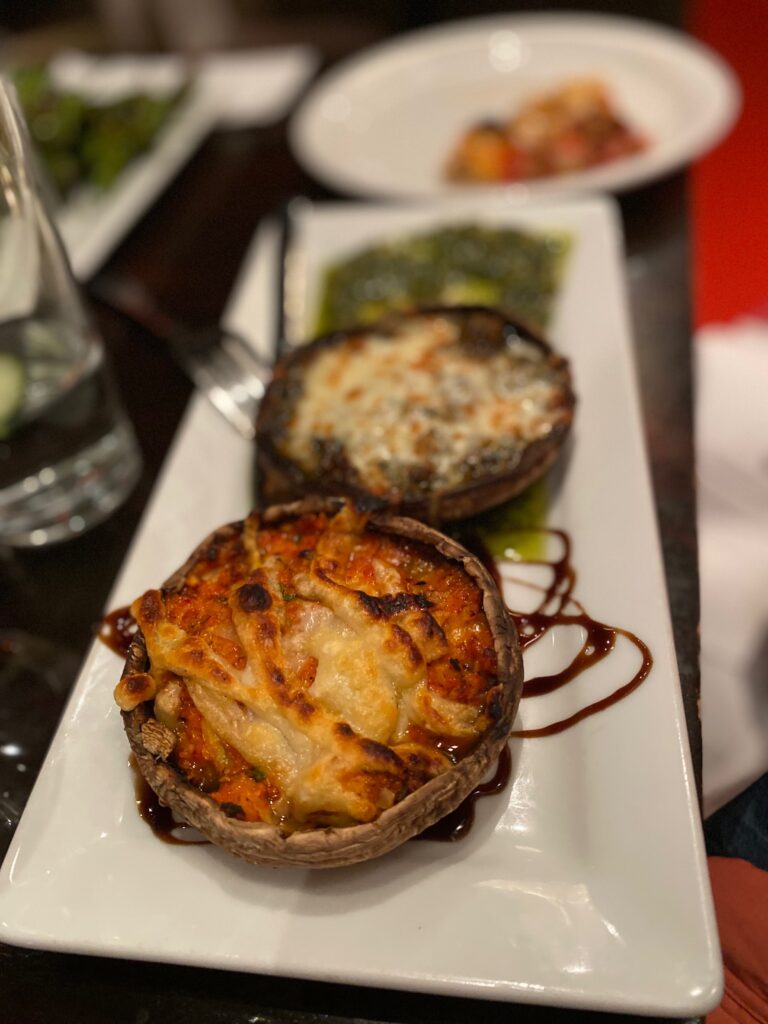 Shelley was continuing the trend of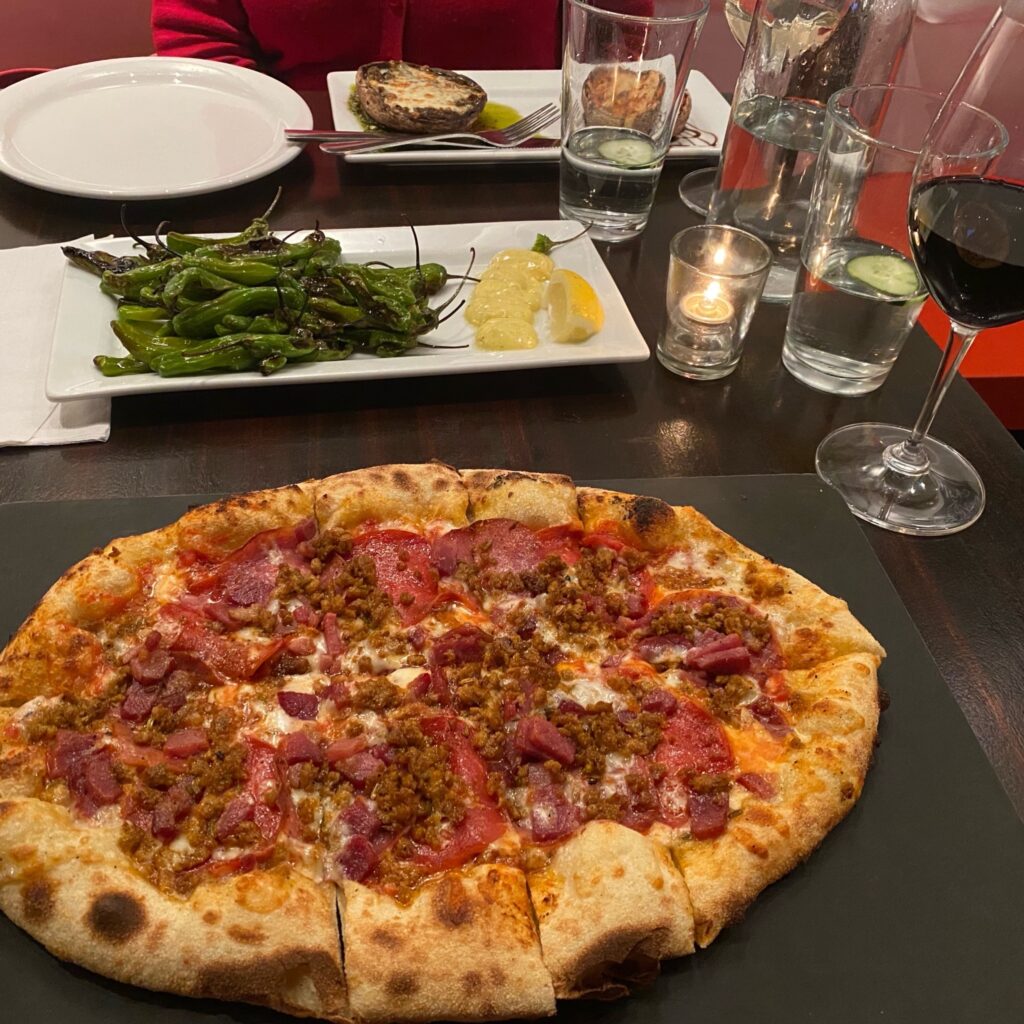 ordering off the appetizer menu which ended up being a perfect amount of food for her since she's a light eater.
Shelley started out with a white Bordeaux, Chateau La Gravière from France and I started out with a Cabernet Franc from Walla Walla Vintners. If you didn't know, I am a HUGE fan of Cabernet Franc. We then shared a Yakima Valley Syrah from Airfield Estate.
Pizza place number four was Radicci Italian Bistro, which is in the building that USED to be a quaint little wine and sandwich shop called, Daanen's. This was a last minute decision as it was on a day that we were supposed to be with the Blazen Divaz in the Hayden Christmas parade but an unexpected accident to one of our Divaz Dudez caused us to cancel our participation in the parade. It was probably for the best as the streets were so icy that it would have been very dangerous for the ladies to dance their routine on those slick surfaces.
We made the best of it with a visit to Radicci! We BOTH started out with a white wine at this stop. Shelley went with the Torre Di Luna Sauvignon Blanc from Italy while I settled on the Arca Nova Vinho Verde from Spain, one that is familiar to us. As we tend to do when we order different wines, we offer each other a taste so that we can experience more than just the wine we ordered. Sometimes, we will actually prefer the wine the other person ordered and have been known to switch glasses.
Both whites were delicious and went down far too easy. We shared a glass of Araldica Barbera D'Asti from Italy with our dinner which, for Shelley, was Buttered Shrimp Scampi with a Lemon and butter wine sauce, served with cruets as well as Grilled Vegetables. Again, perfect amount of food and presented to perfection. Can you guess what I had? You're right! A Pepperoni, sausage and bacon pizza! And it was also quite tasty!